After about a week of keeping this board in my living room as furniture I got out for a few solid sessions recently.
I wrote this after my first two ocean sessions:
I just got a 12 day yesterday and 9 this morning on the new surfboard in chest high surf. Super nice board. It really drives through the turns. I am going to have to step up my game to keep up with it. It feels stiff in the choppy sections. I have it set up quad and it really tracks through the turns. Its pretty unforgiving but when you hit a top turn just right it feels so good! Probably not for a beginner but I might be a little soft from riding that fish.

I think this is going to make me progress my surfing which is the point.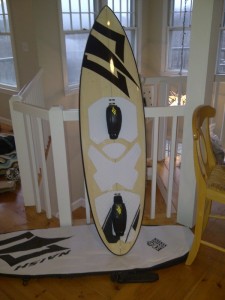 Since then I've gotten 8 more sessions on the board, probably half in the ocean and half at Jetties, and as I've gotten more and more comfortable on it I have gotten an even higher level of performance out of it.  I left it quad and the way it tracks through a bottom turn is amazing.  I just finished two sessions at Madequecham earlier this week and I don't think I lost my edge once on a bottom turn.  I think you get in more critical sections because you can really turn it aggressively.  I don't notice the stiff feel as much now and I think that just translates into responsiveness once you are solid on the board.
It is really light, like physically light weight.  I think it is an awesome jumper and I had one really fun "freestyle" session at Jetties when I caught it on the backside and just squeezed in a 12 session.  In general I keep it on the water.  You can see the light weight of the board on the beach easily, it is noticable.  It seems like it could start blowing down the beach on a good day.  But I'm not sure how that effects the performance.
I'd describe this board as a high performance surf board that performs best when sailed aggressively. So far its been super fun in smallish on shore conditions and quality chest high surf and perfect side shore wind. So hopefully it will hold up on bigger surf. I think it probably will.