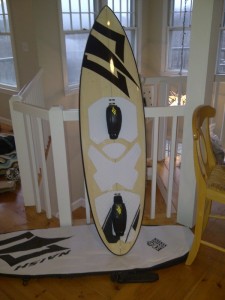 After waiting more than two months I received my new board two days ago. (Naish Global 5'5″ 2012) Promoted by Naish as its all-around, high performance surf board, it looked good on-line and I thought it would be a good board for the more aggressive surfing I've been trying to get into lately.
The "out of the box" experience was excellent. It comes in a tight travel bag which unfortunately only fits when the fins are off but seemed to cut down on the amount of plastic packaging. The board looks sweet. Its got a wood grain look to it with a bold Naish logo on the nose. The rails are black and you can see the carbon weave through the top-coat. It looks really nice.
My first thought was that the shape is a little narrower than I was expecting. This is possibly because I've been riding the 5'2 fish lately. I didn't compare then side to side yet. I was also suprised because the rocker line is really flat and even the nose flip looks minimal. Once I got it all set up and sat with it a while I got used to it and I'm stoked to get a day on it. It feels light even all set up. I'd like to check its weight vs other similar boards.
I was expecting 5 fins in the box because it has five fin boxes and can be set up as either a quad or thruster. But it only ships with 4 so out of the box you set it up as a quad. I'm not an expert so I was a bit surprised that the bigger fins go in the front and the smaller ones in the back slots. I will be very interested in how it feels on the water. I'm looking into getting a 5th fin so I can ride it thruster as well. ( I learned more about this, see the comment below) I'm sure it will rip either way but I am interested in seeing if I can notice the difference now that I am feeling more dialed in the ocean. It took me a little work to get the fins in correctly. The front edge of the larger fins extend well in front of the fin box and at first I was getting a noticeable gap between the base of the fin and the board on the leading edge. I don't think there is a problem. I just had to mess with the way I snugged up the little barrels that hold in the fins. I think it turned out cool in the end.
All in all it looks like a typical excellent product from Naish and I can't wait to see how it rides.